HOME > Product > Product lineup > High-accuracy XY stageHigh-accuracy XY stage
High-accuracy XY stage (Made of ceramic)
High-accuracy XY stage that can be used for a positioning stage for measuring LCD panels, organic EL panels, and others.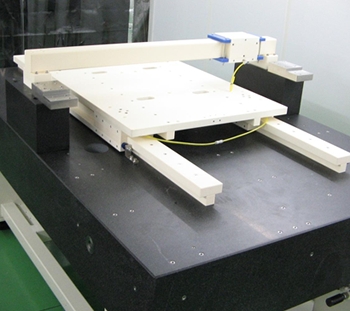 A high-purity alumina ceramic air slider guide is used.
Straightness accuracy: 1 μm or less is achieved.
Attitude accuracy: High accuracy of 2 seconds or less is achieved.
A maximum length of 3500 st is possible.
Reproducibility within 0.2 μm can be achieved.
LCD panel inspection device (G4.5, G5, and G8)
XY table
Positioning device
Image processing apparatus
FPD inspection device
Optical waveguide positioning device
Wafer inspection
Wafer processing
Laser processing
Precision assembly device
Precision processing device
Devices for LCD panel manufacturing process
Devices for semiconductor manufacturing process
Inspection report attached
We can provide sizes that satisfy customer requirements. Feel free to contact us with your size requirements including desired delivery time, etc.