HOME > Product > Product lineup > Precision surface plate
Precision surface plate (Made of ceramic)
To achieve the flatness of 2 μm or lower per 650 mm.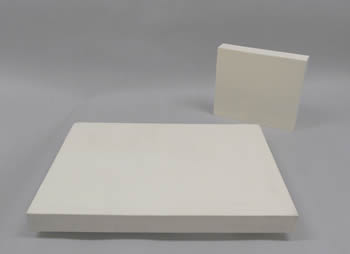 High-accuracy measurement
The flatness of 2 μm or less per 650 mm is achieved.
Lightweight and easy to carry around.
Compared to metal precision surface plates, the ceramic surface plates are lightweight and easy to carry around.
Measurement of molds and other high-precision machined components.
Measurement of precision components of machine tools.
Inspection report attached
Issuance of calibration certificate
Size (mm)
Structure
Flatness
Material and color
Weight (kg)
650×650×45
Flat plates
2 μmm or less
Al2O3
99.5% or higher
Pale yellow
90
600×450×45
65
450×300×45
30
*The above sizes are reference dimensions and subject to change without prior notice. Weight is for reference purposes only.
We can provide sizes that satisfy customer requirements. Feel free to contact us with your size requirements including desired delivery time, etc.