HOME > Product > Product lineup > 4-plane finished square master
4-plane finished square masters (Made of ceramic)
Can readily carry out highly reliable and highly accurate comparison measurement once installed at a manufacturing site.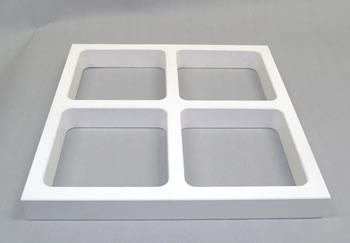 Best suited for high-precision measurement

High precision measurement of squareness and straightness to within 2 μm or less per up to 1000 mm achieved.

Lightweight and easy to measure and carry around

As compared to the 4-plane finished square masters made of metal, a ceramic master is lightweight and is easy to measure and carry around.

Small deflection and superb abrasion resistance

Because of its light weight and high rigidity, the master provides small deflection under its own weight and outstanding abrasion resistance. (Young's modulus: 380 GPa)

Little change over time

The ceramic 4-plane finished square master provides high hardness and outstanding abrasion resistance. Furthermore, it has a small coefficient of thermal expansion, which results in small deformation caused by temperature changes and makes it less susceptible to environmental influences during measurement.
To obtain the assembly accuracy of machine tools.
To measure the motion accuracy (straightness, squareness) of 3D measuring machines, etc.
To measure the straightness and squareness of high-precision components.
Inspection report attached
Issuance of calibration certificate
Size (mm)
Precision finished surface
Squareness
Straightness
Material and color
Weight (kg)
620×620×20
4-square plane
2 μm or lower
2 μm or lower
Al2O3
99.5% or higher
Pale yellow
13
550×550×20
12
350×350×20
6
550×550×55
20
350×350×50
11
Sizes other than the above are possible. Contact us.
We can provide sizes that satisfy customer requirements. Feel free to contact us with your size requirements including desired delivery time, etc.